If we refer to the history of Iran, or allow us to say Persia, as one of the old empire it has played an important role in the world, but during the course of time this country faces with high up and down situations. We are very interesting to see how the Iran's higher education was during the history.

What you mentioned about the history of Iran is correct. Iran has a long and rich history and civilization. This country at the current time has a large network of private, public and state affiliated universities offering degrees in higher education. State-run universities of Iran are under the direct supervision of Iran's Ministry of Science, Research and Technology (for non-medical universities) and Ministry of Health and Medical Education (for medical schools). In order to give a better understanding of higher education of Iran let us to divide the discussion in three parts: past (from the Elamite Empire to the Islamic Revolution of 1979 and the Establishment of Islamic Republic of Iran), present (from the Islamic revolution till 2007) and future (from 2007 till 2018).
However, as far as quantitative changes are concerned, this discussion provides an overview of the Iranian higher education system. A critical assessment of the strengths and weaknesses of the Iranian higher education system requires an in-depth analysis of its structure, which goes beyond the scope of this interview.
a- Past history of Iran's higher education

Review of Iran's history revealed that many dynasties ruled this country. The history of this country starts with the Elamite Empire (2500 – 644 BCE) to the Islamic Revolution of 1979 and the Establishment of Islamic Republic of Iran. During the overall history of this country, education played an important role among the people society. The existence of universities such as the School of Nisibis, Sarouyeh, Reishahr and the Academy of Gundishapur provides examples of priority of academic institutions of science. The traditions and heritage of these Center of higher learning were later carried on to renowned schools such as Iran's Nizamiyya and Baghdad's House of Wisdom, during the Islamic era. After Shapur the First, the Sassanid King, conquered the Roman Emperor, he commanded the Roman POWs to build a new town in a location that was 18 Kilometers South – East the present Dezful city. That town was named Veh-Andiv I Shapur, meaning "city of Shapur, better than Antakiyy-e". From the beginning, Veh-andiv was then called Gondi Shapur (meaning the city of Shapur), that was a focal point for scientists and academics. Many of the Roman texts were transferred to Gondi Shapur and translated into Pahlavi language, and were kept in collections. In the 5th century A. D., a university and a hospital were established in Gondi Shapur that were functional up to 3rd century A.H. In these institutions scientists and medical practitioners cultivated and used experiences of different nations like Iranian, Indian, Greek and Alexandrian medicine. In Anoushirvan's reign research activities were fostered in Gondi Shapur and the city gained a wordly fame: Medicine, Philosophy, Mathematics, Theology, Music, Political sciences and Agriculture were among branches of learning dealt with in Gondishapur University. It is said that many scientists from Iranian and Indian nationalities were employed there. Some medical texts were translated into Pahlavi and were taught in university. These books were then translated into Arabic in later times. Then the crusaders took these books to Europe, where they were translated again into Latin, and then, in 15th to 20th century, into French and English to be taught partly in European universities. In Gondi Shapur Hospital Iranian, Indian and Greek medical treatments were applied, and it is said that the first medical symposium was held there in 550 A. D.
The academy survived the change of rulers and persisted for several centuries as a Muslim institute of higher learning. It was later rivaled by an institute established at the Abbasid capital of Baghdad. In 832 C. E., Caliph al-Màmùn founded the famous Baytu l-Hikma, the House of Wisdom. There the methods of Gundishapur were emulated; indeed, the House of Wisdom was staffed with graduates of the older Academy of Gondishapur. It is believed that the House of Wisdom was disbanded Under Al-Mutawakkil, Al-Màmùn's successor. However, by that time the intellectual centre of the Abbasid Caliphate had definitively shifted to Baghdad, as henceforth there are few references in contemporary literature to universities or hospitals at Gondishapur.
During the Islamic era, the traditions and hermitage of these centers of higher learning were later carried on to renowned schools such as Iran's Nizamiyya, and Baghdad's House of Wisdom. Hawza or Hawze Elmiye is a Seminary of traditional Shi'a Islamic studies. Several senior Grande Ayatollahs constitute the hawza. A Nizamiyya is one of the medieval institutions of higher education established by Khwaja Nizam al-Mulk in the eleventh century in present-day Iraq, Iran and Afghanistan. The name Nizamiyyah derives from his name. Founded at the beginning of the Seljuk empire, they are considered to be the model of Madrassas, or Islamic religious school. Nizamiyyah institutes were the first well organized universities in the Muslim world. The quality of education was the highest in the Islamic world, and they were even renowned in Europe. They were supported financially, politically, and spiritually by the royal establishment and the elite class.
b-New era of Iran's Higher education

Studies of Iran's history show that people of this country most of the time involved in war, attack and revolution. But due to the rich heritage of knowledge among the society they were always looking to improve their knowledge. Therefore, during the reign of Nasser al-Din Shah of Qajar Dynasty, the Ministry of science was established by Ètezad al-Saltaneh. He was appointed the first minister of science in 1858. It was Abbas Mirza, a younger son of Fath Ali Shah Qajar, who first dispatched Iranian students to Europe for a western education. The history of the Establishment of Western style academic universities in Persia dates back to 1851 with the establishment of Darolfonoon, which was founded as a result of the Efforts of the royal vizier Mirza Taghi Khan Amir Kabir, aimed at training and teaching Iranian experts in many fields of science and technology. By the 1890s Darolfonoon was competing with other prominent institutions of modern learning. The Military College of Tehran (Madraseh-ye Nezam), established in 1885 with a budget of 10000-12000 tomans, was its first rival; and in 1899 the College of Political Sciences (Madraseh-ye olum-e siyasi) was organized within the foreign ministry.
During the reign of Reza Shah, the first king of Pahlavi Dynasty (from the establishment of the provisional government in 1925 to the Shah's downfall in 1941), Iran witnessed one of the most eventful epochs in its history. The world developments and the need to secure the interests of the great powers, coupled with the strategic location of Iran, brought about a need for a transformation in the social structure. The first steps were taken during the Qajar period, but these were not comprehensive measures. Thus, the "modernization" or the "modernist" program was launched in Iran.
Promoting higher education inside the country and the need for establishing institutions for this purpose were considered a primary objective, especially since specialists in science and technology were required for various projects. In the beginning, schools from the Qajar period, in addition to a number of newly established ones, carried on with their activities in the field of education. Later on, some of these schools merged to form the University of Tehran. Subsequently, other centers of advanced learning began operating, some of which were also absorbed into the University of Tehran after August 1941. It was in 1928 that Iran's first university, as we know it today, was proposed by an Iranian physicist, Mahmoud Hessaby. After Tehran University, the establishment of other universities in Iran soon followed, and the Shah initiated projects to build Iranian universities modeled after American schools. Thus Pahlavi University (Shiraz University today) was modeled after the University of Pennsylvania, while Sharif University was copied after M.I.T. Between 1925 and 1934, when the University of Tehran was founded, many schools, institutes of higher education, colleges and other similar institutions were set up and started operating. In 1935, women began to be admitted to centers of higher learning. One of the fundamental developments in this era was a change in the image of women, a manifestation of which was their admission into the university and in other centers of advanced education. While the primarily goal of these institutions was the dissemination of modern science and technology, until 1935 the privilege of gaining expertise in such fields was limited to men. Women only reached high school, except for admissions in the Higher School of Midwifery.
After the 15th century, in 1955 (1334 A. H.), the first nucleus of rebirth of Gondi Shapur University in the modern era was set by the establishment of a college of Agriculture in Ahvaz. This college grew up to be one of the most important institutions of its kind in the country. Other colleges and schools were established thereafter, and the university, named Jundi Shapur University, expanded rapidly. In 1969 the School of Agriculture was recognized as the best school of its kind in Middle East countries. By the victory of Islamic Revolution in Iran, in 1978, a new era was started in the country. Embarking of the war between Iraq and Iran immediately after revolution, and the succeeding turbulent conditions affected the general stability of the university. In 1982 the Jundi Shapur University was renamed after martyrdom of Dr. Chamran, the date commander in chief of a group of a guerrilla battalion that was based in Jundi Shapur University campus.
c- After Islamic Revolution

Since the Islamic Revolution of 1979 in Iran, the educational system of the country has gone under qualitative and quantitative changes. The structure of the education system in Iran is basically divided into five cycles, namely pre-school, primary, middle (or guidance), secondary and post-secondary. Three outstanding characteristics of the Iranian education system must be mentioned at this point. First, elementary education is mandatory under the Iranian constitution. Secondly, due to increasing number of applicants, admission to postsecondary institutions is through a nation-wide entrance examination and thus only the most talented students can enter universities. Finally, in general, education (in primary, secondary and post-secondary levels) is free of charge though private schools and universities authorized by law are allowed to charge tuition fees.

How is the degrees and number of students in Iran?

At the time being, in the shape of public and private or non-profit structure, universities in Iran offering degrees in a variety of subjects at both undergraduate and graduate levels. These degrees have an acceptable quality compared to the degrees offers by international universities in western countries. The latest statistics show that the student population of Iran is around 2110731.

The three Ministries responsible for most general and post-secondary education are: the Ministry of Education which has jurisdiction over some post-secondary programs such as primary and guidance teachers training colleges and Higher Institutes of Technical and Vocational Education; the Ministry of science, research and technology (MSRT); the Ministry of Health and Medical Education (MHME).
However, as indicated before, since the victory of the Islamic Revolution, new universities and colleges have been established, offering wide range of specializations. Moreover, since 1987, masters and doctorate courses have been offered in many different disciplines. The number of students standing at 175675 in 1979, has increased to 1945931 in 2003/04 as described in below tables.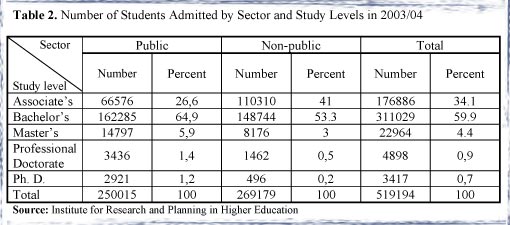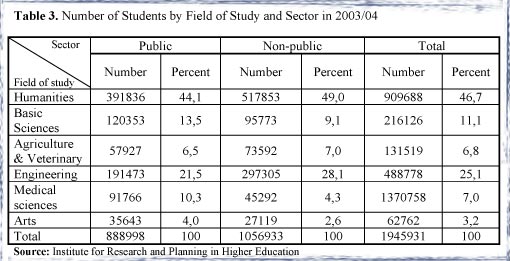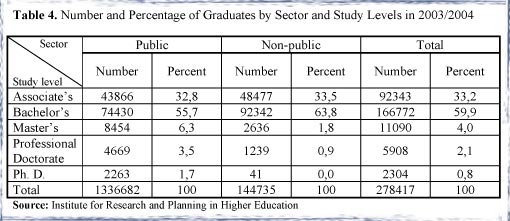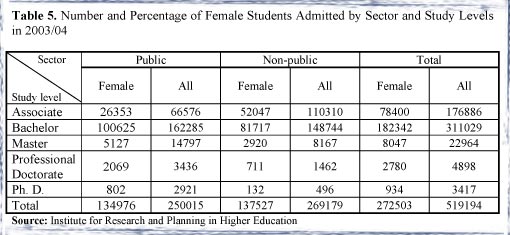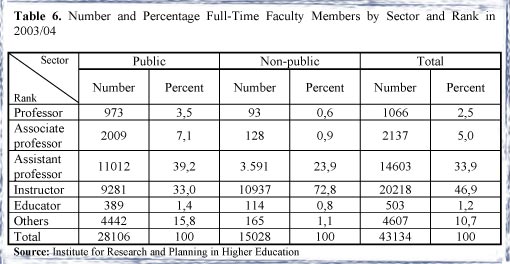 The main branches currently offered in the Iranian universities comprise Natural and Basic Sciences, Humanities, Medical and Health Sciences, Arts and Literature, Engineering, and Agriculture.
The admission is based on the results of National Entrance Examination (KONKUR). One thing that has not changed since the Islamic Revolution is that admission to university remains extremely competitive and thus very difficult. Although all universities work with full capacity, demand for post-secondary education still far exceeds supply. In order to alleviate this problem at least partly and in order to enable all talented, interested individuals to pursue their higher education, two measures were taken. First, an Islamic Azad (open) University was established after the revolution in 1981. Its activities quickly expanded throughout the country, so that today thousands of students are benefiting from its high educational standards. Not relying on government funding, it charges students with tuition fees. Applicants enter this university have to go through entrance examinations match those of other universities. The certificates issued by this university should be recognized upon evaluation by the Ministry of MSRT and MHME.
The other way to alleviate this problem has been to establish correspondence universities. The PAYAAM-E NOOR University was set up in 1987. It charges tuition fees and principally aims at providing teachers and civil servants the opportunity to continue their education. Courses are given through television and correspondence and students write exams at local university offices.
Courses and Awards

- Associate Diploma.
Admission requirements: students with high school diploma should take the nation-wide entrance examination in order to be admitted to this program.
Program: some universities and higher education institutions as well as primary and guidance teachers' training centers award the associate degree. Students should complete 72-78 units, which normally takes two years.
- Bachelor Degree.
Admission requirements: admission is based on completion of secondary school, plus the "Konkur" university entrance examination.
Program: full-time bachelor students will normally be expected to finish their degree in 4-5 years. No part-time programs are available and there are time limits on the completion of all degrees. The following standing must be held as a degree is being completed:
(A) Registration for a minimum of 14 units, and depending on academic performance, registration up to a maximum of 21 units per semester.




(B) The completion of a minimum of 153 units.




(C) An overall Grade Point Average of 12 out of 20.
- Master Degree.
Admission requirements: the master program is intended for high achievement graduates from honors undergraduate programs. Students, who have completed a bachelor or an equivalent degree with an average of at least 14 out of 20 or above, may be admitted to the program. Bachelor holding students who want to be admitted must pass the entrance exam.
Program: full-time master students will normally be expected to finish their degree in two years by choosing one of the following options depending on the field of study: the completion of a minimum of 22 units and a research-based thesis.
- Continuous Master Degree.
This degree is offered in the fields of Dentistry, Medicine, Pharmacy and Veterinary Medicine as well as some other fields. Since this degree is taken up after high school graduation, it requires the completion of 210-290 units with a dissertation.
- Doctoral Degree.
Admission requirements: a master degree, or an equivalent degree, with at least high second class standing (overall average of 16 out of 20 or more) is required. Graduates with master degree must participate in the Ph.D. entrance examination in order to proceed to doctoral program.
Program: full-time doctoral students will normally require a minimum of three years (and a maximum of six years) of study following a master degree. Since the whole master and Ph.D. programs comprise 60 units of course work altogether, the Ph.D. student is required to complete up to 60 units. Thus, if the Ph.D. candidate has already completed 30 units during his/her master studies, he/she is required to take the reminder, which is 18-30 units. The Ph.D. student must successfully complete the required units with an overall average of 14 out of 20 in each semester. When all course work is done, the candidate sits for comprehensive examinations. Writing a dissertation is the final requirement to be fulfilled by the Ph.D. candidate in order to be awarded the degree.
The grading system

Promotion through the Iranian education system is based on end-of-year examinations at primary, intermediate, and secondary cycles, and end-of-term examinations (sometimes both middle- and end-of-term examinations) at post-secondary cycle. At primary, intermediate and secondary schools, system of grading is based on a 0-20 scale. An average scale of at least 10 is required for promotion. At the post-secondary level a system of grading based on a 0-20 scale is used too. The letter grade equivalents are:

A = 17 – 20
B = 14 – 16
C = 12 – 13.9
D = 10 – 11.9

The minimum grade for a subject credit in undergraduate programs is 10, in graduate programs is 12 and in Ph.D. programs is 14. The Grade Point Average (GPA) of 12 in undergraduate programs and 14 in graduate programs is required.
Students from institutions under the jurisdiction of MSRTC and MHME should be able to obtain transcripts unless they owe to their university. Official transcripts are issued and translations sealed by either the related Ministry or the Justice Administration of the Islamic Republic of Iran. Some universities such as Amir Kabir University, Sharif University of Technology and Shiraz University issue transcripts only in English. This includes transcripts issued directly to students.

Your explanation given us a very interesting overview of Iran's higher education history and change. Could you please let us know what kind of problems or forces mostly influences such changes?

From the starting point of developing the modern higher education institutions and colleges, they have faced with a number of economic, social and political problems. These factors were influential in the educational planning. To understand these forces we may consider and divide the history of higher education in Iran into many stages.

It would be very helpful if you give us more interpretation for our readers about these stages…
Although explaining all the forces and interpreting them is very difficult and far from this interview, I would try to give you and the readers a brief interpretation which I have already did work on it. Generally speaking, we could divide these stages as: copying stage- imitation stage, modification stage, reconstruction stage and "take off" stage.
Copying stage (imitation stage)

The main aspect of educational planning before the 1979 was copying the models of university planning from the USA and France universities. Although the Iranian universities have had relatively autonomy in educational planning, educational planning was never an institutionalized concept by the university administrations in this stage. There was however no attempt to adjust the programs according to community needs and regional industry requirements. The main reason may be rooted in the philosophy and nature of the development and the expanding models of higher education in Iran. As mainly the production and transmission of academic knowledge still is controlled by the industrialized nations, therefore research occupies less important part of Iranian university activity than that in the most universities of the industrialized world. This phenomenon also is attributable to some other reasons, namely nationalism, political and social pressures and high ambition.
Modification Stage

After the Islamic revolution, since 1978 to 1993 the revolutionary bodies under the names of Higher Council of Cultural Revolution (HCCR), Higher Council for Planning (HCP) and Higher Council for Expansion (HCE), were responsible for university educational planning. In Iran this period was leaded by the authorities with a centralized educational planning conception. They undermined capability of the universities for planning and asked all the institutions to adopt the centralized national planning and regulations. Factors which created this policy may be related to: a) the idea of modifying the higher education based on the revolution values; b) the problems raised by 8 years imposed war between Iran and Iraq; c) the outcomes resulted in a centralized planning through other sections of economy. In this stage, all the Boards of Trustees were abolished, a centralized board of trustees and some special committees were appointed within the Ministry of Culture and Higher Education, currently Ministry of Science, Research and Technology and a policy of highly centralized educational planning were addressed. In this stage, with issuing the new policy, course units in all undergraduate and graduate studies were increased. As this policy was adopted without considering its economic and social uphill, the result increased educational time and expenditures, as well as social dissatisfaction and problems because of the students complains.
However, the process of centralizing higher education planning weakened the capability and potentiality of university system and made them to be only reactive to the HCP policies and regulations. In result, there has been set many policies and regulations without calling the active participation of the individual universities. Therefore, in public and mostly private sector of the country it was believed that the university do not have enough flexibility to educate the required manpower. In consequence, various ministries and some other public organizations started to establish the parallel higher education institutions for training their human resources.
Reconstruction Stage

Based on the experiences from the first development plan after the Islamic revolution (1989-1993) and also based on the problems which universities were faced since 1993, a shift has been made toward planning at the university level. In doing so, in the second development plan (1993-1997), the universities were asked to develop their own five year development planning. We may call this period reconstruction stage. In this stage changes took place in the curriculum and course programs. Also the main universities had opportunity in appointing their own auditing councils which gained some limited responsibility. It seems this decision have been made due to prospect students pressure in the political scene, who struggled in having an easy access to the higher education. Reducing university costs and accelerating student's graduation were other main concerns. Delegating the curriculum development to universities is the most importuned change in this stage.
"Take Off" stage

We perceive another higher education policy period in Iran, which may be called the "Take Off" stage. A period which can bring about new changes and innovations in Iran's higher education. But achievement of this stage requires delegating more authority, decentralization and trusting to individual university administration abilities and decision making qualities. This phase might change the role of ministry of Science, Technology and Research to supporting, advising and co-coordinating of university matters, rather than a decision-making authority.

You have so far said about the past and present changes of Iran's higher Education. Could you please more speak about the future plan of higher education in this country?

If we are going to talk about the future of Iran's Higher education it is more rational to have a look at the Iran's fourth development planning and its strategies for next 20 years. Review of the fourth development planning article (2005-2009) of the country shows that it is concentrated on knowledge development strategy. In this plan it is highly emphasized on development science, technology and research. It is anticipated that Iran would be the top of the scientific power in the middle east after the 20 years. Therefore the government expected to spend more than 2% of its GDP to higher education and research projects. Universities are asked to work on developing, transferring and absorbing the technology and knowledge.

I have noticed you wrote two books about the globalization with emphasis on Iran experiences and also published other paper in this field. In your point of view, what are the effects of globalization on Iran's higher Education?

It is obviously clear that globalization puts pressure on Iran's higher education and universities through out the world to move toward a decentralized planning practice and be more responsive to the local, national and global demands, focused on customer and process, stimulating continuous improvements and participation. But these effects on Iran's universities due to the traditional practices of planning have been limited. Although, new reforms including delegation of authority to universities which are new initiatives on the globalization requirements. The notion of dependency was explored in terms of universities' financing, its structure and organization, as well as the challenge to power and authority among faculty members and boards of trustees. Inadequate attention to internal and external customers was one of the main barriers, which affected the new reforms. Finally, suggestions were made in connection with university management and staff commitment, the way the university organized academic work, strategic planning and human resource development.

How is the Iran's university relation with advanced university outside the country?

This connection could have different types among the institutions. Most of the known university of Iran such as Tehran University, Shiraz University, Mashhad University, Shahid Chamran Univesity (Formely Ghondy Shapour) University, Sharif University etc., have established academic and research cooperation with foreign universities and institutions. These agreements include:
— exchange of faculty members and scholars;
— joint research activities and publications;
— participation in seminars and conferences;
— exchange of course materials;
— offering special academic programs and short courses;
— students' exchange.
University of Tehran has MOU with 64 universities from different countries of the world: Sweden, China, Russia, Africa, Syria, Switzerland, Japan, Iraq, France, Kazakhstan, Canada, South Korea, Malaysia, Norway, Greece, Armenia, Azerbaijan, Germany, USA, Spanish, Australia, Slovenia, Indonesia, Italy (University of Rome "La Sapienza"), Algeria, Bosnia-Herzegovina, Pakistan, Thailand.
At present, Shiraz University has signed Memorandum of Understanding with the following universities: The United Kingdom (Royal Holloway and Bedford New College University of London), The United States of America (University of Virginia), United Nations Populations Fund, Uzbakistan, Canada (University of Alberta), Germany, Italy (University of Rome "La Sapienza", University of Milan), Japan, Lybia, Afghanistan, Oman, Qatar and Thailand.
More addition, for example the International University of Chabahar offers programs under the guidance of London School of Economics and Political Science Goldsmith University of London and Royal Holloway. Other schools such as the Institute for Advanced Studies in Basic Sciences in Zanjan have close collaboration with the International Center for Theoretical Physics in Trieste (Italy) for workshops, seminars and summer schools. The Iranian government also offers intensely competitive but fully paid scholarships for successful applicants to pursue Ph.D. level studies in Great Britain.

What are the main problems of Iran's higher education in terms of graduate students?

In spite of remarkable activities and program which put forward after the Islamic Revolution to improve the higher education and make it connected to the development of country, some problems arisen. We may mention these problems and issues as follow:
- "Konkur" (university entrance examination) is a comprehensive and the most stringent test to enter universities. This system of accepting student's needs to be changed and reformation. The "Konkur" is so rigorous and the seats available at universities so limited that normally only 10 percent of applicants gain admission. Although in recent years the establishment of a number of new higher education institutions, especially the creation of Azad University (a semiprivate, open university), has been instrumental in accommodating the ever-increasing demand for higher education in Iran. Still, many students failing the "Konkur" opt to leave the country to attend foreign colleges and universities. According to studies, a majority of these students do not return home;
- system of teaching and learning in higher education is based on the memorization and students are required to acquire a great deal of factual knowledge. Due to following a mass higher education policy, teaching based on the lecturing and test driven in nearly at all levels of universities and higher education institutions are available;
- there is a weak links between teaching methods and instruction with the real needs of industry and student. Therefore it requires an improving quality of higher education through integration of instruction and research (educational, scientific, student). In fact, promoting understanding and appreciation of scientific habits of thinking, methodology of research and achievements among the students is very important while at the moment the system of higher education is unable to develop such skills among students;
- low utilization of ICT in Higher Education. Although the number of virtual courses and universities in Iran is going to increase but still this country needs to improving access to higher education through information technology;
- one of the serious problems which could be a very harmful issue in the next years is the issue of unemployed graduate students. Demography, rapid urbanization and a shift in the country's economic structures are the main causes of growing unemployment in Iran. While government plans and policies are focused on dealing with this problem, analysts agree that high unemployment particularly among the educated people is a phenomenon that will not go away for at least one decade. Experts have regularly warned that Irons workforce, particularly the fresh graduates, is simply not ready for the increasingly competitive labor market. Iran needs to create more than a million jobs a year just to keep pace with its growing population. In reality, only about 300.000 new jobs are added each year, creating high unemployment rates among educated youth (one out of 10 unemployed youth hold a university degree). Official statistics have set the rate of unemployment at 15 percent. Only 75.000 of the 270.000 university graduates who enter the labor market each year will find jobs, creating a situation in which university graduates must line up with the rest of the population in search of sources of income. The jobs that they find often have little to do with their studies and specialization. Many young educated Iranians have left or are actively seeking employment anywhere they can;
- brain drain. However, it seems one of the main concerns by Iranian policy maker and politician is the issues of brain drain. These issues not only related to economic but also academic situation inside the universities. Today, Iran suffers a major loss of intellectuals, scientists, medical doctors, and academic elites. According to the International Monetary Fund (IMF), which surveyed 91 countries, Iran has the highest rate of brain drain in the world: every year 150.000 educated Iranians leave their home country to pursue better opportunities abroad. Iranian experts put the economic loss of brain drain at some $50 billion a year or higher, making the exodus of an inventor or scientist comparable in local terms to the eradication of 10 oil wells.
The desire among Iran's elites to seek higher education degrees abroad goes back to the early 19th century, but the phenomenon of brain drain is a contemporary one. The main purpose of leaving the home country in those days was to attend foreign universities in Europe, especially in France and Germany, to acquire expertise in the fields of engineering, medicine and military sciences that would be applied at home. Even then, fascination with Western culture or intermarriage motivated some Iranian students to remain abroad, but the majority of students – especially those on government scholarships, which often stipulated that the expertise acquired abroad be applied at home – returned to Iran after their studies ended. In fact, as Shahrzad Kamyab (2007) stated in addition to economic hardships, the intellectual atmosphere at universities does not encourage qualified academics to remain. Scholars and scientists feel excluded from decision making their expertise qualifies them for and believe their work is unappreciated. Education Ministry official states that a large number of university scholars who go abroad on sabbaticals contact their home institutions requesting unpaid leave: a tacit way of acknowledging they intend to stay abroad. Officials attribute this to lack of resources, including insufficient research facilities and laboratories, a lack of new books and access to education websites as well as low salaries.
However, in recent years several measures have been taken to slow down the brain drain phenomenon by providing work and research facilities for academics and geniuses. To support and preserve researchers and geniuses inside Iran, several organizations have been founded. On 7th October 2003, the Supreme Leader of Iran ordered the Supreme Council of Cultural Revolution to prepare the grounds for backing production of scientific software, and also to institutionalize scientific space of the country. Thereby, by proposition of the Council of Scientific Researches of Iran, the Supreme Council of Cultural Revolution ratified the charter for Iran National Science Foundation, on 18th February 2003. This foundation was established with the purpose of supplying researchers' welfare, organizing generation of science and technology, preparing executive grounds in the country for directing research and technological proceeds towards people and permanent development of the country. Another institution founded later to deal with the welfare of Iranian geniuses is Iran National Geniuses.

In reference to the international movement and higher education transformation, what might be Iran's higher education comparative advantages in joining the globalization trends or world Trade Organization (WTO)?

Iranian authorities have been working on the Third and Fourth Five-Year Plan with regard to breaking state monopolies. Though some of the politically sensitive areas are yet to be tackled, Iran has effectively broken state monopolies in downstream oil and gas, banking, tobacco industry. With regard to legal and structural realities, Iran is in need of a major restructuring before it can effectively join WTO. However, though the discussion of this debate is beyond the limits of his interview, I emphasis this idea that entry into the WTO will provide Iran with a number of education-related opportunities. The first lies in the distribution of new knowledge, in which intellectuals will play a major, pioneering role in the newborn Iran knowledge economy. The second involves the application of that new knowledge. The entry into the WTO will further strengthen Iran's international educational exchange and help knowledge products expand in the global market.
Advantages of Iran's higher education to join WTO are: availability of a large network of private, public and state affiliated universities offering degrees in higher education; a long history of vocational and technical education in different field of industry, services and other vocational needs and all its certificates are assurance by ILO; strong and equipped training center in main industry of the country, etc. More over, a growing number of Iranian public and private universities; rising expansion of higher education access; increasing number of postgraduate subjects in universities; establishment of new international branches of higher education in Iran's Free Trade Zone, Iran's fourth five year development plan emphasis on accepting foreign students, Iranian private universities are also becoming increasingly active in the delivery of education and training programs outside of Iran. ICT in Iran have had a huge progress for expanding the virtual university and E-learning. Statistics reveal that the number of foreign students coming to Iran has been on the rise in recent years. In a nut shell, it seems that Iran's higher education policy maker should develop plans to supporting their higher education system. Although it is clear that if Iran decides to open up and liberalize its higher education sector, it has to take into consideration many issues and possibilities such as: academic freedom, academic responsibility, public funding, goods subsidy, import and export regulations, quality assurance, recognition of qualifications, mobility of students and so on.

What is your final comments about Iran's higher education system?

However, with respect to the present characteristics and culture of university planning in Iran, it is difficult in a short time that the universities be able to adjust themselves with new economic conditions and succeed in developing skills and integrate subjects and courses in the light of the local, national and global needs. Therefore, it is urgent that Iran's universities with taking into account the issues and obligations of globalization, address a new approach of higher educational strategy. The approach which, instead of paying high attention to the political functions, gives priorities to the economic, scientific, social and cultural function of individual university educational planning.
Interview given on August 28, 2007

Riferimenti bibliografici:

— Y. Mehralizadeh, Reforms in Higher Education and Management Systems of Quality in Higher Education (ISO, Baldridge, TQM, EFQM) Their Rationality, Methodology and Problems in Theory and Practice, Final Report of Visiting University of Calgary-Canada, 2006.
— Y. Mehralizadeh – E. AL-ANSARI, Globalization and dilemma of management of quality in higher education, "The International Journal of Management Education", forthcoming.
— Y. Mehralizadeh, A study of shifting paradigm in developing a holistic quality management model in higher education, forthcoming.
— Y. Mehralizadeh, Debate of WTO in Education and Iran's Higher Education Comparative Advantages, forthcoming.